Usually, we have to wait a few years to see how trades play out to see who really won. I don't have a few years, I'm a sports blogger, I am ready to commit to this take. I also want to preface this with one thing, The Raiders "won" this trade, but are still in rough shape.
For those of you who don't remember, Mack was traded for, a 2019 first round pick (Josh Jacobs), a 2020 first round pick, a 2019 sixth round pick, and a 2020 third rounder.
Mack, 28, filled into the Bears defense perfectly and is doing big things. That usually would be enough to say that the Bears won this trade. USUALLY. When you trade for a key player, the idea is that you are a full contender and that is the piece you need to win it all. Last year, that was the case until the double doink.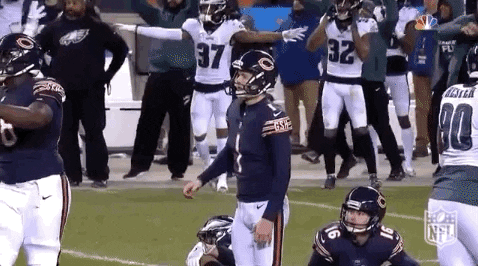 Flash forward to this year, The Bears defense remains a threat, but their offense is awful. They have some solid veterans mixed with some decent youth, but they can't get it going. Their "Franchise QB" Mitchell has been below average and doesn't look like the answer to their QB woes.
They could have got the potential Offensive Rookie of the Year, Josh Jacobs, with the draft to match up with Cohen. Jacobs made them pay in England this weekend and really was a big part of the Raiders win. With Mike Mayock at the GM position, I have full faith in all of the picks he makes because that was his job at ESPN. If they hire you for something like that, you kind of have to be good.
This years draft is full of offensive talent, and the Bears will miss out on some top tier talent. Like I said, it makes sense, because Mack is a top 3 player in the NFL, but at 28 he on;y has so many years left on his engine. I am ready to say, the Raiders have won the Trade